Emergency Denture Repairs in Rochester, NY

Have you broken your dentures so they look bad or won't even fit in your mouth. You need perfectly functioning dentures in order to enjoy your food, look your best, and stay healthy.
You may not have the time or money to get an entirely new set of dentures, but you might be able to get your dentures fixed very quickly, so you can move on to thinking about other things than your teeth!
Same Day Denture Repairs in Rochester, NY

If you have broken dentures, simply call us to schedule a visit at your earliest convenience. Many problems with broke dentures can be fixed on the spot, and they will look, fit, and feel like they are new again.
You might have a regular dentist, but he might not be set up to handle emergencies quickly. If his schedule is booked up, he might tell you that he cannot possibly fit you in for several hours or days. If you can't eat because your dentures are broken, this might not be good enough.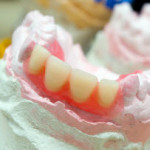 Why not call us because we care about your urgent and emergency dental problems. Our office is staffed with caring, kind, and competent dental professionals who know how to handle all sorts of different dental needs. This is true if you have a toothache, lost a filling, or need to get your dentures repaired quickly.
Get Emergency Denture Repair Today
Contact an emergency dentist in Rochester, NY for quick and professional emergency dental care. We won't make you wait or pay a high premium just to get your dentures fixed the right way. Hopefully, you will also remember us when you need to schedule regular dental appointments. We can also give your checkups, clean your teeth, and handle all types of dental care at any time.