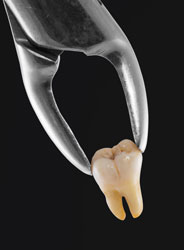 At our Rochester dental office we understand that even if you take extreme care of your teeth, and go out of your way to perform proper dental hygiene, accidents will happen.
If you find yourself with a damaged tooth due to accident, you always want to make sure the see a dentist as soon as possible.
You would be amazed at the level of damage we are capable of repairing, but if you need an oral surgeon to remove the tooth it is important that you still get that done as soon as possible, as well.
However, the need to get a tooth pulled isn't always because of a sudden accident. Here are four common warning signs that you might need a tooth extraction that you should never ignore.

Swollen Gums
The first warning sign is if you have extremely puffy gums around a severe toothache. This can be a lot of things, but it could also be a sign of an abscess tooth and if the damage infection is bad enough you may need to get it removed.
A Severe Toothache
A second warning sign is pain that just won't go away. Applying ice to the outside of your mouth might help the swelling, and ibuprofen might take the edge off the pain, for a while. However, if you have sharp tooth pain that seems to come from inside the tooth or even throbs then you need to come in and possible get an extraction.
Delayed Dental Work
If you have needed some serious dental work for quite some time and you kept putting it off over months or even years, there might be so much damage that a root canal or crown won't be enough. If this is the case then pulling the tooth out might be your only viable option.
Dental Trauma
After an accident where there is tooth damaged, any sharp pain, bleeding gums, or anything similar may indicate it's time to come in and get the damaged tooth pulled and the damaged area cleaned out.
At our Rochester dental office we never want to be in a position where we are pulling a tooth that could have been saved. However, sometimes there are no other options. Hopefully, the information provided in the is article, as well as elsewhere on emergencydentistrochesterny.com, you'll find information that helps you keep your bright smile for many years to come.